A big thank you to all of our sponsors!
An Abridged History
The Polish University Club of Los Angeles was founded by Dr. Thomas M. Potasz, a prominent Los Angeles ophthalmologist, in November 1947. Originally organized by a group of lawyers, teachers, physicians, social workers, and other professionals, its stated purpose was to serve the Polish community through programs promoting the culture of Poland as an integral part of the development of American society.
With support from the Potasz Trust and other memorial funds, donations, and fundraising events, the PUCLA's primary focus at present is its Scholarship Program.  Annually, the PUCLA awards thousands of dollars to Polish-American college students from Southern California.
The Polish University Club of Los Angeles is open to all Polonians and anyone with an interest in Polish culture.  Among the many Polonians who have served the PUCLA over its 65-year history are: Michael Potasz (brother of the founder), Bronia Walacha, Jean and Charles Breese, Helena Pharis, Halina Gawlinska, Carolyn Hintz, Czesław and Gillian Olechno-Huszcza, Tom Bruzdowicz and many others…
The Club strives to broaden its membership throughout Polonia in Southern California and encourages support of its fundraising efforts for the benefit of young Polish-Americans. The PUCLA firmly endorses the belief that the future of Polonia depends upon an educated youth, fully conversant with its heritage.
– adapted by Artur A. Prejna from an article written by Helena Pharis and Gillian Olechno-Huszcza and published in Polish Americans in California, Volume II, 1995
Biographies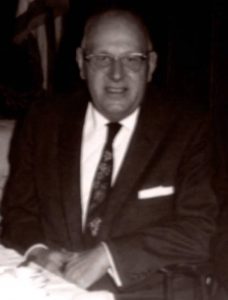 Thomas M Potasz, MD
 –
 A native of San Francisco, Dr Potasz graduated from Loyola University Chicago with a medical doctorate in 1926 and went on to specialize in ophthalmology.  While at LUC, he was a member of Lambda Rho Honorary Fraternity.  After medical school, Dr Potasz moved to Southern California to intern at San Diego County Hospital and subsequently moved to the Los Angeles area.  Seeing the need to create a society for Polish-American professionals, Dr Potasz, along with his brother Michael and other members of the Polish-American community of Southern California, founded the PUCLA in November 1947.  Originally, a social club whose objective was to promote Polish culture and to provide a networking framework for its members, the PUCLA has evolved over the years to become the premier organization for providing scholarships to Polish-American students in Southern California.  This was made possible only through the endowment left by Dr Potasz after his death in 1973.  A proud alumnus, Dr Potasz's endowment also benefits Loyola University Chicago.
Bronia Walacha
–
 Born on July 19, 1917 in Philadelphia, PA, Mrs Walacha grew up in Chicago where she went on to be employed by Nalco Chemical Co and was active in the Polish National Alliance.  After retirement, Mrs Walacha  moved to Southern California, where her Polish community involvement included PNA Lodge 3193 and the Polish University Club of Los Angeles, where she served as Financial Secretary and Scholarship Committee member.  Graced with a lovely soprano voice, Mrs Walacha was a member of the choir at Our Lady of the Bright Mount Polish Parish for many years.  Mrs Walacha established the PUCLA's Bronia Walacha Memorial Scholarship Fund, which benefits scholarship recipients who show a record of strong Polish community service.  Mrs Walacha passed away on October 30, 1997, and was survived by her sister Laura Hoffman, a longtime PUCLA supporter and donor to the Bronia Walacha Memorial Scholarship Fund, as well as many nieces, nephews, and cousins.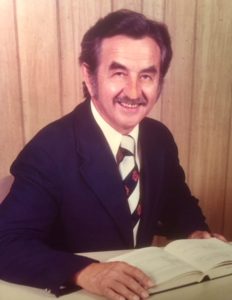 John F Kopczynski, Sr –  
John Kopczynski was born in Buffalo, NY on April 30, 1917 and was a lifetime resident of Western New York.  He attended the Rochester Institute of Technology where he studied engineering and graduated in 1939.   He was employed at Bell Aircraft where he became Chief Tool Engineer.  John started his own business in 1945 and later founded St. Mary Manufacturing Corporation, a metalworking firm.  During his lifetime he succeeded in obtaining over 80 patents.  In 1975, John also founded Ascension Sheet & Metal Fabrication, Inc.  As apparent in the names of his companies, he was a deeply religious man.  In August 1976, he was part of the welcoming committee for 20 Catholic bishops from Poland visiting Niagara Falls.  Cardinal Karol Wojtyla, then Archbishop of Krakow, lead the delegation and John coordinated their tour.  On October 22, 1978, John and his wife Alice attended the investiture of Pope John Paul II in Rome, which was one of his life's highlights.  A significant religious achievement was his being appointed a Knight Commander of the Equestrian Order of the Holy Sepulcher of Jerusalem by the Catholic Diocese of Buffalo.  John was a member of the Board of Regents of Canisius College and Chairman of its "Chair of Polish Culture" and was also a member emeritus of the Council of the State University of New York at Buffalo.  John Kopczynski died in February 2005 leaving behind a successful business and a family charitable foundation to carry on all his hopes, dreams and aspirations.